Can Lit Across Media: Un-Archiving the Temporal Literary Event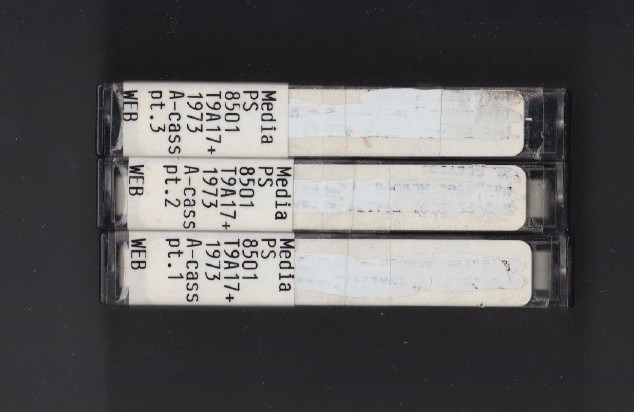 CONFERENCE: June 5-6th 2015
Concordia University, Montreal
As the culmination of the four-year SSHRC IG-funded project SpokenWeb, a conference "Can Lit Across Media: Un-Archiving the Temporal Literary Event" will be held at Concordia University on June 5-6th 2015. It will gather scholars, writers, archivists and media practitioners for an intensive investigation into the past, present, and future of archiving and un-archiving Can Lit across media. The conference expands the methods and research questions that have defined SpokenWeb's engagement with audio poetry archives and invites scholars working on other media-diverse archives and collections to join the conversation.
For the past four years, SpokenWeb's interdisciplinary team of researchers has been investigating the poetry reading as event through its audio archives of the Sir George Williams Poetry Series (1965-1974) and development of the PoetryLab mobile app. Building upon SpokenWeb's mandate to re-activate engagement with audio poetry archives by presenting them in digital environments and public spaces, and motivated by an interest in exploring the range of media formats that have been used to preserve Can Lit since the 1950s, this conference looks ahead to the future of audio-visual archives of literary events and to the un-archiving of materials that document these events and continue to make them available in the present.
For more information about this conference, contact organizers Jason Camlot and Katherine McLeod at <spokenwebcanada@gmail.com>
Schedule
Conference Program
All events will be held at Concordia University's downtown SGW Campus.
All panel sessions and the keynote lecture will take place in Room LB 646, located on the 6th floor of the Library Building (1400 De Maisonneuve Blvd. W.)
Film screening of The Line Has Shattered, "Performing the Literary Archive on Air: A Conversation with Eleanor Wachtel," and the reception and reading "All the Poets in Town: A Montreal Poetry Recording Party" will take place in the J.A. DeSève Cinema, located in the lobby of the Library Building (1400 De Maisonneuve Blvd. W.)
Day One - Friday June 5th, 2015
9:00-9:30am - Welcome Reception/ Opening Remarks – Jason Camlot and Katherine McLeod, organizers
9:30-10:30am – Archives and the Digitization of Nation – Panel Session
Dean Irvine, "Indigenous Networks: Digital Repatriation, the Sto:lo First Nation, and the Street-Sepass Archives"
Linda Morra, "Ira Dilworth, CBC Digital Archives, and the Production of Canadian Citizenship and Culture"
10:45-12:00pm – Mediated Conferences– Panel Session
Karis  Shearer, "Vancouver Poetry Conference, 1963"
Jason Camlot, "The Foster Poetry Conference, 1963: Archival Specters and Traces of the Event"
Andrea Beverley, "Archive Bound: Women and Words in 1983"
Lunch
1:15-2:30pm - Un-Archiving the Literary Event – Panel
Gary Barwin, "From Archive to Newhive: Using historical recordings to create H for it is a pleasure and a surprise to breathe."
Karl Jirgens "Digital Mediations:  Temporal phenomenologies of Janet Cardiff and George Büres Miller's inter-active walking tours, as archival events."
Nutritional Break
3:00-4:30 -  Plenary Keynote Lecture - Catherine Hobbs (Library and Archives Canada) "Voices Kept in Context: Un-derpinning and not Un-pinning the Archives of Literary Events"
5:00-6pm - Film Screening – "The Line Has Shattered" by Robert McTavish (J.A. DeSève Cinema)
Dinner and End of Day 1 Activities
Day Two - Saturday June 6th, 2015
9:30-10:45 - Archival Blind Spots and Silences – Panel Session
Katherine McLeod, "Extension: Phyllis Webb on CBC TV"
Joel Deshaye, "Listening to the Unseen Layton: Irving Layton as a Voice for the Archives"
Felicity Tayler, "Sound as Visual - Visual as Sound: Documentary Traces of Literary Events at Véhicule Art in the Early 1970s"
11-12:15pm – Talking Can Lit – Panel Session
Michael John DiSanto and Robin Isard, "Re-Listening to George Whalley"
Deanna Fong, "Othertalk: Coversational Literary History in the Roy Kiyooka Digital Audio Archive."
Marcelle Kosman, "Tapping the Canon: Jonathan Goldstein's WireTap and the Production of Canadian Literary Culture"
Lunch Break
1:15-2:45pm - Archives of Canadian Cultural Production – Panel Session
Andrew Bretz, "Canadian Identity and Shakespeare on CBC Radio, 1936-53"
Annie Murray, "The National Film Board of Canada and the Production of Canadian Literature"
Darren Wershler, "TBA"
Nutritional Break    
3:30-5:30pm – Plenary Panel Discussion – "Performing the Literary Archive on Air: A Conversation with
Eleanor Wachtel" (with Jason Camlot and Katherine McLeod)  (J.A. DeSève Cinema)
Dinner Break
8:00pm - "All The Poets In Town: A Montreal Poetry Recording Party" (J.A. DeSève Cinema) 
Join us for this final event of the SpokenWeb project. SpokenWeb has focused largely on questions surrounding the documentation (and recording) of literary events. For this event, every Montreal poet who is available will perform a poem on the de Seve stage. The event will be recorded in a multitrack format with some microphones capturing the voices of the poets, and other mics placed in different locations to capture the sounds that will occur concurrently, but out of earshot of the actual reading (including, possibly, the sounds of the city's Grand Prix celebrations). At a later date, the voices of the readers, plus all other sounds inadvertently captured will be made available online for listeners to mix and listen as they like.Some of the superb poets who will read at this event (the list is growing by the minute) include:
Larissa Andrusyshyn
Maxianne Berger
Linda Besner
Stephanie Bolster
Asa Boxer
Jason Camlot
Jeramy Dodds
Tanya Evanson
Endre Farkas
Ian Ferrier
Raymond Filip
Helen Hajnoczky
Lee Hannigan
Catherine Kidd
Steve Luxton
Jeffrey Mackie
David McGimpsey
Ilona Martonfi
Stephen Morrissey
Daniel O'Leary
Branka Petrovic
Greg Santos
Carolyn Marie Souaid
Mike Spry
Carmine Starnino
John Emil Vincent
Darren Wershler
And more!...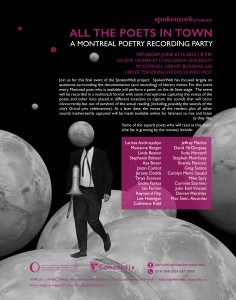 Participants / Abstracts
Gary Barwin (University of Western Ontario)  "From Archive to Newhive: Using historical recordings to create H for it is a pleasure and a surprise to breathe."
There is both an availability of archived recordings (readings,  performances, interviews) of significant Canadian writers. Upon encountering the numerous archival recordings of bpNichol  reading and performing his own work, I became interested in how this iconic work (and his iconic  voice) could be explored by artistic creators in addition to scholars.
I considered how the work could be used both to artistically explore aspects of bpNichol's  work as well as his manner of performance. Could these archival recordings be used as the building blocks of new work, work that addresses and further explores his concerns, particularly  with notions of identity, the body and performance, the breath, memory, and ultimately with working with the resonances and possibilities of language, story, and past culture. Further, I knew that there would be something viscerally powerfully about using the actual recordings and the recognizable sound of an iconic and much loved writer's voice.
From my exploration of the archival bpNichol recordings, over the last year, I have been developing H: for it is a pleasure and a surprise to breathe, an extended multi-media piece in progress (approximately 30-­40  minutes) inspired by bpNichol's notion of borderblur: his  enthusiastic engagement in multimedia, improvisation. The work is an exploration of what is  possible with sound and language and incorporating archival recordings of bpNichol performing  his own work. The archival recordings have been used as a source material for computer  manipulation and have been integrated with new work written and performed by me.
The lecture/performance From Archive to Newhive is a performance and demonstration  of ways in which I have incorporated archival recordings in this new work. I will discuss what are  the issues surrounding using archival work in the creation of new work, including: how can the creative investigation of archival material throw new light on a writer's work; and what are the concerns with rights and appropriation, reinterpretation and respect for the original work and the original creator.
Andrea Beverley (Mount Allison University) "Archive-Bound: Women and Words in 1983"
This paper will discuss the 1983 Vancouver Women and Words conference as a case study through which to pose questions about acknowledging the desires of the archive-bound researcher and troubling critical lineages that mythologize watershed moments. In the context of the "Can Lit Across Media" conference, this paper resonates most closely with the questions posed in the Call for Papers on the stakes of unearthing, mediated memory, and re-presenting literary events. It focuses specifically on the critical significance of audio/visual archival footage of events that have been "textualized" through published proceedings and framed by literary history.
Remembering the 1983 Women and Words conference, well-known Canadian writer Di Brandt recalls that it was "like a dream for me, being there at all […] the beginning of feeling connected to other writers, women, becoming part of a women's community" (55). As Brandt's comment suggests, the 1980s were a time of extraordinary activity in the women's literary community in Canada. The decade was punctuated by memorable conferences, from the Dialogue conference in 1981 (which resulted in the seminal collection Gynocritics: Feminist Approaches to Canadian and Quebec Women's Writing) to the 1988 Third International Feminist Book Fair in Montreal, which left its mark as a "watershed in feminist cultural politics" (Emberley 79). Women and Words brought together nearly one thousand women writers, academics, publishers, and activists to discuss such diverse topics as: History of Feminist Presses and Magazines, Language and Language Theory in Women's Writing, Inadequate Coverage of Women's News, and Writing and the Erotic. Women and Words was a touchstone cultural moment with significant effects on Canadian literary production.
Retrospectively, conferences such as Women and Words are accessible through their published proceedings, subsequent edited collections, and mentions in literary histories. They figure in a genealogy of Canadian women's writing and on a larger Can Lit timeline. The ways in which these live events have been "textualized" for posterity necessarily involve editorial choices, prioritizations of some voices or issues over others. What, therefore, is the responsible methodological standpoint from which we might discuss unedited recordings of such events? Given access to footage of Women and Words, does the researcher hope to find exciting material too recklessly excised from official proceedings? Does it all boil down to a desire to find out "what really happened" – and how problematic is that? If the proceedings as a whole fail to confirm the highlights for which the event has been remembered, should that remembering be disturbed and invalidated?
The Women and Words fonds in the Simon Fraser University Special Collections and Rare Books Library contains extensive video and audio recordings of Women and Words. Indeed, the conference organizers purportedly planned to produce a documentary on the event. In advance of an imminent (summer 2015) visit to this fonds, this paper reflects on the theoretical, methodological, and affective stances that frame archival research involving footage of events that we access as readers through text, and as researchers through specific critical framings.
Andrew Bretz (University of Guelph) "This Blessed Plot, This Earth, This Realm": Canadian Identity and Shakespeare on CBC Radio, 1936-1953"
My paper, which is drawn from work in the archives of the CBC held at McMaster, seeks to explore the permeability of the cultural borders between the UK, the US, and Canada in the first two decades of radio broadcasting, using productions of Shakespeare as the focal point of my analysis. The deployment of the Romantic ideal of Shakespeare as a universal genius over American airwaves was adopted by the CBC and it is this Canadian use of an American vision of Shakespeare which I will explore in my paper.
The CBC was established in 1936 in response to the Aird Commission's call for a Canadian median between the state run broadcasting model pioneered by the BBC in the UK and the state governed, yet independently owned and operated, free market system of the United States. From its inception, the Canadian model of broadcasting was an attempt to both resist the encroaching power of American network broadcasters and to emulate, with difference, the monopolistic British model. However, when it came to productions of Shakespeare, the CBC abandoned its attempt to hold the centre.  Rather, it heavily drew from American network programs rather than homegrown productions or imported productions from the UK.  By the radio age, Shakespeare's position as a metonym for British high culture had been long established, yet Canadian productions and broadcasts (or re-broadcasts) of productions of Shakespeare insistently ventriloquized American productions of Shakespeare. It was the American vision of who Shakespeare was and what Shakespeare meant that dominated the Canadian airwaves. American network Shakespeare performances were rebroadcast or repackaged for Canadian audiences throughout the 1930s and into the 1940s, despite the model of cultural defense suggested by the Aird report.
The vision of Shakespeare delivered from American radio was one that was descended from the Romantic articulation of a "universal" Shakespeare. For example, announcers on programs such as NBC's Radio Guild and An Hour with Shakespeare explicitly situated Shakespeare's work within a tradition of universal and unchanging "truths." This appeal to the Romantic ideology perhaps goes to explain why the CBC was so willing to rebroadcast such productions under the guise of universal truths. Indeed, it is this repackaging and repurposing of a Romantic vision of Shakespeare I will be exploring in my paper. Nevertheless, the willingness of a Canadian broadcaster to borrow American adaptations of the archetypical British playwright does query the position of the cultural borders among the nations.
If nothing else, the Canadian appropriations of American adaptations queries the effectiveness of the early CBC to fulfill its mandate of maintaining a bulwark against American cultural imperialism. More than that, such appropriations force a reassessment of the position of Shakespeare within the Canadian cultural consciousness prior to 1953.
Jason Camlot (Concordia University) "The Foster Poetry Conference, 1963: Archival Specters and Traces of the Event"
This presentation will tell the story of the Foster Poetry Conference (FPC, 1963)—a Quebec-government-sponsored gathering of English-language poets in the Eastern Townships—from its conception by English Quebec poets John Glassco, Frank Scott and A.J.M. Smith to the publication of the conference proceedings as English Poetry in Quebec (1965), as this process is discernible in documentary traces of the event. My account will focus as much on the materials by which such a narrative may be constructed as on telling the story, itself. In this vein, I will discuss the as yet un-discovered tape recordings of the FPC made by conference participant Ralph Gustafson as the inaudible specter that points us to the use of other materials as a basis for an historical account of the events of the FPC, specifically, the proceedings of the conference that Glassco edited, published as English Poetry in Quebec in 1965 by McGill University Press (MUP), and the robust body of correspondence concerned with the organization of the conference and proceedings found in the John Glassco fonds, held at Library and Archives Canada. Our reception of the FPC is largely shaped by the textual apparatus in which it is delivered, that is, by the published proceedings that were prepared in the year after the events took place. Our access to the events is thus filtered by the editorial plan and principles that Glassco, Scott, Smith, and their MUP editor (Lloyd M. Scott) finally agreed upon. Early on in the editorial process, A.J.M. Smith wrote to Glassco stating that he felt the proceedings of the conference should "be modeled on Whalley's Macmillan editing of the Kingston Poetry Conference report." George Whalley's Writing in Canada: Proceedings of the Canadian Writers' Conference, Queen's University, 28-31 July, 1955 thus provides one important template, among other extant documents and structures, that informs our historical reception of the Foster Poetry Conference.
Jason Camlot's critical works include Style and the Nineteenth-Century British Critic and Language Acts: Anglo-Québec Poetry, 1976 to the 21st Century. His recent research has focused on the history of literary sound recordings and the digital presentation of analogue documentary poetry readings, most recently, en français, "Le Foster Poetry Conference, 1963" in Voix & Images, and several articles in the special issue of Amodern on "The Poetry Series" that he has co-edited with Christine Mitchell. Jason is also the author of four collections of poetry, most recently, What the World Said (Mansfield Press, 2014). He is Associate Professor of English and Associate Dean in the Faculty of Arts and Science at Concordia University.
Joel Deshaye (Memorial University) "Listening to the Unseen Layton: Irving Layton as a Voice for the Archives"
In 1964 and on television, Irving Layton said to his interviewer Pierre Berton that "it's easy to understand the public I witness." Without an authorized typescript of the interview, however, listeners to Layton cannot know whether he meant "I witness" or "eyewitness." This paper will consider the ramifications of this and other limitations of the aural in archival records of Irving Layton's interviews and performances of poetry, especially when such events happened on television but were archived on audio tape only. It will also consider the features of Layton's voice, broadly understood in relation to style, that make his voice suited to speaking for the archives through public address and open interpellation. Archives to be considered are at Concordia University, the University of Saskatchewan, and the CBC headquarters in Toronto.
Michael John DiSanto and Robin Isard (Algoma University) "Re-Listening to George Whalley"
Some of the recollections in George Whalley: Remembrances (Quarry Press, 1985) dwell on Whalley's distinct and recognizable voice. For those who knew Whalley the quality and timbre of his speech were an integral part of his person. His contributions to CBC radio over nearly two decades (1953-71), though not as well known as his scholarly writings, were significant and varied, from the early attempt to tackle the legend of John Hornby in "Death in the Barren Ground" to the sophisticated adaptation of Primo Levi's "If This Is A Man." (The latter, according to John Reeves, the long-time CBC producer and Whalley's collaborator, is one of the great triumphs of radio in Canada.) A recognition of the importance of collecting, preserving, and publishing recordings of Whalley and his CBC broadcasts has informed the design of the Whalley Project database, which is build in compliance with the Rules for Archival Description – the Canadian national standard – using an open source Drupal content management system. The Whalley website, http://georgewhalley.ca, is the public side of the database.
We propose to describe the database and its functionality (and to give a look inside if an internet connection and projector are available). We will review the sources of the audio recordings in Queen's University Archives' George Whalley Fonds (which includes his personal copies of several his CBC broadcasts) and private collections. We can briefly comment on the digitization of the cassettes and reel-to-reel tapes. Then we can identify some of the discoveries and reflect on their significance. These include, for instance, Whalley's readings of his own poems (some made privately for friends and others made before an audience in the Agnes Etherington Art Centre), Whalley's readings of John Donne, Gerard Manley Hopkins, and W.B. Yeats for radio broadcast, and Whalley's strangely humorous introduction for F.R. Scott. One of the more remarkable finds is the hitherto lost and previously unpublished interview recorded in Yellowknife in April 1976 in which Elizabeth Hay speaks with Whalley about The Legend of John Hornby. A very brief fictionalized account of the interview appears in Hay's novel Late Nights On Air, in which Whalley's biography of Hornby and "Death in the Barren Ground" have great significance to the characters. The discovery of the interview led to a successful negotiation with the CBC to license "Death in the Barren Ground" for publication on the Whalley website in 2014.
Deanna Fong (Simon Fraser University) "Othertalk: Conversational Literary History in the Roy Kiyooka Digital Audio Archive."
[Recording] is the ear's equivalent of the mirror. You look at yourself in a mirror for visual affirmation or negation.
-Roy Kiyooka, "Trudi & I Talking," 1982 (06:05.52)
The Roy Kiyooka Audio Archive is a collection of 404 recordings made between 1963 and 1988, housed at Simon Fraser's W.A.C. Bennett Special Collections. Inscribed on a variety of formats, including cassettes, reel-to-reel tapes, and mini-cassettes, these recordings offer a unique autobiographical perspective of one of Canada's foremost artistic and literary figures during a burgeoning period of cultural production. The tapes in Kiyooka's archive are "para-literary" in nature: they capture the voices of prominent experimental writers and artists, including Warren Tallman, Gerry Gilbert, Robert Creeley, George Bowering, and Daphne Marlatt, who speak about poetics, composition, craft and aesthetics. Most of the tapes, however, simply record conversations, some of them funny, some painfully personal, some idle, some heated and polemic. I argue that these tapes present an ontologically different record than the material base from which Canadian literary history has traditionally drawn: monographs, little magazines, formal interviews and readings. The tapes document speaking subjects performing themselves for their contemporaries and for futurity. Speakers try on different ideas and registers, opening themselves to omission, failure, and self-revision, voicing what Ann Laura Stoler has called the "affective tremors" of the archive: "the spasmodic and sustained currents of anxious labour that paper trails could not contain" (19). The archive offers an alternate mapping of poetic modernism and postmodernism in Canada that resists both the retroactive influence of canonicity, and the self-consolidating tendencies of emergent poetic movements. It allows us to trace the imprint of the immaterial labour that constitutes communities and collective subjectivities—labour that is rendered invisible (or inaudible) on the printed page. Central to this alternate mapping is Kiyooka's role as conceptual bridge figure, connecting geographically and ideologically distinct communities: the literary and visual arts communities in Vancouver, eastern and western schools of Canadian poetics, TISH and the Downtown Poets, and successive generations of artists and writers. Many of these connections are undertheorized in current literary historical accounts of era, and my paper will use the Kiyooka tapes to trace a broader network of influence and tradition.
Dean Irvine (Dalhousie University) "Indigenous Networks: Digital Repatriation, the Sto:lo First Nation, and the Street-Sepass Archives"
This repatriation project proposes a collaboration with the Street and Sepass families to undertake the curation of a digital exhibit of the Sepass poem cycle. It will implement the cultural protocols and traditional knowledge licences introduced by the Mukurtu project (mukurtu.org) and maintained by its partner project Local Contexts (localcontexts.org). The exhibit will feature materials currently in the possession of Bill Sepass, the great-grandson of Chief William K'HHalserten Sepass, which include his great-grandfather's papers and photographs as well as Street's original handwritten notes and manuscripts; it will reproduce the mimeographed texts, photographs, and drawings published in Indian Time and under the magazine's imprint in the 1950s; it will display publisher's correspondence from the 40s through the 70s and other papers preserved by Eloise's son and grand-daughter; it will make available Gabriel George's 2014 audio recording of the cycle; and it will document stories by members of the Street and Sepass families about their ancestors and about the stories themselves that intertwine them. In addition, the exhibit will present related early to mid-twentieth century ethnographic material, most notably the unpublished manuscript of Diamond Jenness's fieldnotes from a 1936 interview with Chief Sepass. By creating an online environment in which materials preserved by the Street and Sepass families may be curated collaboratively by their source communities, this exhibit seeks to stage the repatriation of the Sepass cycle in relation to the history of its creation, reception, and preservation.
Karl Jirgens (University of Windsor) "Digital Mediations:  Temporal phenomenologies of Janet Cardiff and George Büres Miller's inter-active walking tours, as archival events."
Janet Cardiff and George Büres Miller's "walking tours" emerge as hybrid digital expressions that combine performance art, theatre, and installation art, directly engaging audiences in discovering marginalised archival histories. Their walking-tours revisit historically significant sites investigating subjects that oscillate between Eros and Thanatos. The frame of reference or mise en scene in their works demands the inter-active presence of the audience as essential "figure" set against a ground embedded with desire, absence, and anxiety. All of Cardiff and Miller's pieces are digital stored in their own archive. Their site becomes a meta-archive containing histories within histories. This talk will illuminate the phenomenology of their "walking tour" oeuvre and will focus on several recent works.
Marcelle Kosman (University of Alberta) "Tapping the Canon: Jonathan Goldstein's WireTap and the Production of Canadian Literary Culture
When we consider the variety of CBC radio programs that promote Canadian literature and literary culture, Jonathan Goldstein's WireTap is unlikely to spring to mind. The meta-theatrical radio program responsible for staging absurd phone conversations and zany antics certainly does not generate Canadian literary culture in the manner we expect from programs like Q or Between the Covers. My paper, however, argues that Goldstein's WireTap does in fact contribute to the dissemination of Canadian literary culture, and that this dissemination reaches an audience particularly interested in literatures that fall beyond the boundaries of the Canadian canon. WireTap episodes make frequent use of pulp magazine genres, like gumshoe detective fiction and superhero adventures. On 3 October 2013, for example, WireTap broadcast a short story depicting an unemployed detective on the case to solve the mystery of the neighbourhood children's stolen tooth fairy money. Even the antics of the show's regular cast of characters and Goldstein's bizarre interview subjects come from a long pulp tradition of weird tales and speculation. WireTap thus produces literary content using generic forms that have historically been wildly popular among Canadian readers and writers, yet marginalized culturally as "un-Canadian."
In her article on the politics of pulp magazine circulation in Canada, Michelle Denise Smith notes that pulps "circulated in mass quantities in Canada during the first half of the twentieth-century" (261), but due to their generic origins in American pulps, these Canadian publications were "stigmatized as both a form of lower-class literature and a form of American mass culture" (262). WireTap's broadcasting of pulp genres resists this class-based stigmatization and reclaims these modes of storytelling as part of Canadian culture. In this paper I discuss the genealogy of Canadian pulp literatures and their class associations. I then demonstrate how these genres operate formally in Jonathan Goldstein's WireTap by sampling several episodes representative of the program's decade-long tenure. In offering a formal analysis of the literary content of WireTap, I argue in favour of understanding the program as both producing and disseminating literature that is deliberately non-canonical, but nevertheless Canadian. WireTap thereby contributes substantially to the production of Canadian literary culture.
Katherine McLeod (Concordia University) "Extension: Phyllis Webb on CBC TV"
In 1967, Phyllis Webb, a poet known for her radio work as a producer for CBC Radio's Ideas, hosted a CBC television program called Extension. Filmed in Montreal and Toronto and with the subtitle, "Poetry: Here, Now and Then," Extension featured a range of guest poets: F.R. Scott, Irving Layton, Leonard Cohen, Earle Birney, Miriam Waddington, Gwendolyn MacEwen, bpNichol, and bill bissett, among others. As of yet, there has been no critical examination of Extension, despite its innovative staging of Canadian poetry for a national audience, nor of its archival preservation, which consists of a combination of audio-visual recordings and audio-only recordings of select episodes. Thus, this paper turns to Extension as exemplifying Webb's dual role on the CBC airwaves as poet and public intellectual (Butling); moreover, the paper argues that the episodes hosted by Webb could be thought of as a reading series on television. What, then, are the implications of reading poetry on television? What kind of poetic attention is called for on behalf of viewers? And how does a poetry reading on television complicate close-listening when a camera directs both the eyes and ears of the viewer? Through a close-listening to and close-watching of Extension, this paper attempts to theorize a reading series on television as a temporally based literary event while, simultaneously, un-archiving this literary program that very much enacts an extension of Canadian poetry across media.
Linda Morra (Bishop's University) "Ira Dilworth, CBC Digital Archives, and the Production of Canadian Citizenship and Culture"
For my research concerning the life and career of Ira Dilworth, an administrator for the Canadian Broadcasting Corporation of Radio (CBC Radio), I recently called upon CBC's online Digital Archives. During the course of this research, it became apparent that he had a tendency, on the one hand, to preserve papers that were unrelated to his occupation but that also contributed to Canadian culture, and, on the other hand, to be less careful about those related to his profession with CBC Radio. In fact, as I came to realize, this pattern imitated a larger one established by CBC Radio and its two forms of archives—the first, a more traditional, material one that consists of papers and recordings housed on the premises of CBC Radio and other satellite institutions, and that has greater appeal for researchers; and the second, an online, digital archive that showcases how CBC radio is invested in appealing to the masses, a generalized audience rather than an academic one, while publicly constructing its cultural currency. In this paper, I argue that Dilworth's tendencies in relation to the safeguarding of his papers parallel those of CBC Radio; these tendencies emphasize education over preservation, reveal a desire to position the institution centrally in relation to Canadian culture, and showcase CBC's drive towards (and its anxiety about its) socio-political and historical relevance in relation to the national imaginary.
As this paper also shows, in the course of CBC history and as revealed in Dilworth's papers, production and broadcasting have been consistently privileged over the systematic preservation of a record of those same activities. On the one hand, CBC's lack of preservation policies and its limited practices meant that the accessibility and availability of materials, such as they existed, render it more difficult to understand the inner workings of the institution in the period. On the other hand, that same difficulty can be thought indicative of the extent to which CBC Radio has consistently privileged its educational role within a national and socio-cultural context over that of preservation. The incarnation of two sets of archives for CBC Radio—a traditional, material repository and an online, digital archive—is also a response to two sets of demands and two audiences, and suggests for whom archives are developed and how—even for the same institution—archives can at times represent conflicting sets of concerns.
Annie Murray (University of Calgary) "The National Film Board of Canada and the Production of Canadian Literature"
This presentation will consider the non-textual legacy of 20th century Canadian poetry by examining a group of films on Canadian poets produced by the National Film Board from the late 1960s to the early 1990s. In the second half of the 20th century, Canadian literary culture was a well-documented auditory and visual phenomenon that occurred in the context of the development of federal cultural agencies, the spread of Canadian literature as both a literary market and field of study, and the development and proliferation of larger narratives about Canadian literature and culture. Government funded bodies such as the Canadian Broadcasting Corporation, The National Film Board of Canada, and the Ontario Institute for Studies in Education produced films and recordings meant for wide circulation to Canadians and the world. Grants from the Canada Council made possible poetry reading tours and series which often resulted in audio recordings made by the institutions that hosted the poets. At the same time, this period of literary and cultural production is somewhat vulnerable from a cultural heritage standpoint, due to the fragility of the formats used to create audio and video recordings. Memory institutions and cultural organizations in Canada now face urgent preservation challenges associated with both archival and commercially produced recordings that document Canadian literary figures and events.
I will examine in particular the National Film Board's role in the documentation of 20th century poetics in Canada. Through the production of documentary films on poets including Margaret Atwood, Alden Nowlan, Earle Birney, Irving Layton, Leonard Cohen, Andrew Suknaski, and Milton Acorn, the National Film Board fostered and examined narratives about the nature and role of the poet in Canadian society. These films reveal, through their focus on author biography and thematic preoccupations of the time, the consolidation of a national literature and the establishment of a particular vision of the Canadian poet. As such, the recordings are a vital record of the poets themselves, their voices, performative styles and attitudes towards writing. When examined as a group, they reveal a filmmaking style that mirrored the thematic criticism so dominant in literary studies in the 1970s and 1980s. Thus, the NFB films on Canadian poets, most of which are freely available online through the NFB's website, are a remarkable auditory and visual testament to a period of state-supported literature in Canada that saw the development of both institutions and literary stars. The availability of the NFB films is a reminder that only a small percentage of poetry-related audio and video recordings created in Canada have been transferred to digital media and are readily available for use.
Annie Murray is Curator of Rare Books and Manuscripts and Head of Archives and Special Collections at the University of Calgary. She manages and develops the University's holdings of rare books, literary, musical, historical, institutional and architectural records. Formerly, she worked as Digital and Special Collections Librarian at Concordia University, and has been affiliated with the SpokenWeb project since its inception.
Karis Shearer (UBC Okanagan)
Felicity Tayler (Concordia University) "Sound as Visual - Visual as Sound: Documentary Traces of Literary Events at Véhicule Art in the Early 1970s"
My paper will "read" photographs as a means to access the material history of the Véhicule press. I am interested in exploring the indeterminate status this descriptor occupies prior to 1975, as its referent shifts between a machine adjunct to an exhibition space, a printing cooperative, and an editorial project and literary imprint. I have passed many hours peering at photographs in the Véhicule Art gallery archives, now housed at Concordia University.  The photographs are conveniently gathered together by medium in a single box, filed by exhibition or event date. Somewhat less conveniently, this separates them from other kinds of records that would clarify the subjects captured by the images. Some of the photographs document literary events – such as a performance given by Roy Kiyooka on December 19th 1973. This particular three-by-five-inch black-and-white sequence of snapshots shows three figures whom I was only able to name by gleaning information from administrative files, or Kiyooka's Transcanada Letters (Talonbooks, 1975) and Stephen Morrissey's diary entries: Kiyooka hunches over a table reading, before him lies a flute and a tape recorder; seated to his right is the Véhicule Press manager, Annie Nayer, who also thumbs through pages; behind them both a dancer, Vickey Tansey, strikes languid poses atop a paint-spattered ladder.
In the photograph, the ladder models the letter-form of an "A" for the camera. This is a significant detail because the gallery was a centre for the "linguistic turn" of conceptual, process-based and post-Minimalist art in Montreal. As Liz Kotz has observed, both conceptual photography and the open form poetics (that Kiyooka drew from) share an indexical mode. Whereas artists used conceptual photography to frame "real" objects in the world through the exposure of film to light modes of open form poetics registered the voice of the poet on the printed page or onto newer recording technologies by mechanical means. In response to the call for papers on "the spaces that have been instrumental for staging live literary events," mine will consider how these photographs index a production of space by visual artists, which then became a locus for the poetic community enacted by the Vehicule Poets in early to mid-1970s Montréal.
Felicity Tayler is a PhD Candidate in the Interdisciplinary Humanities Doctoral Program at Concordia University, with a major field of study in Canadian Art History. She completed her Masters in Library and Information Studies at McGill University in 2005. As an artist, curator and information professional her research focuses on cultural infrastructure as the material substrate of our social imaginary. She has published in various scholarly and professional journals including: International Journal on Digital Libraries, C Magazine, Ciel Variable, Art Libraries Journal, Art Documentation and Montreal Review of Books.
Darren Wershler (Concordia University) 
Guest Speakers & Film Screening
Catherine Hobbs, Library and Archives Canada
Plenary Keynote Lecture, Friday June 5th, 3:00-4:30pm
Catherine Hobbs is the Literary Archivist (English-language) at Library and Archives Canada. Catherine is the Chair of the Special Interest Section on Personal Archives (SISPA) within the Association of Canadian Archivists and a member of the steering committee of the Section on Literary and Art Archives within the International Council on Archives. She has taught seminars, organized conferences and published articles on both literary archives and personal archives.
Eleanor Wachtel, CBC Radio
Plenary Panel Discussion – "Performing the Literary Archive on Air: A Conversation with Eleanor Wachtel" (with Drs. Jason Camlot and Katherine McLeod), Saturday June 6th 
Eleanor Wachtel was born and raised in Montreal, where she studied English literature at McGill University. Wachtel lived in the United States and Kenya, and then in the mid-'70s worked as a freelance writer and broadcaster in Vancouver. In the fall of 1987, Wachtel moved to Toronto to work full-time as Literary Commentator on CBC Stereo's State of the Arts, and then as writer-broadcaster for The Arts Tonight, and Toronto reporter for The Arts Report. She was host of The Arts Tonight from 1996 to 2007 and has been host of CBC Radio's Writers & Company since its inception in 1990. She also hosts Wachtel on the Arts on Ideas. In 1993, Knopf Canada published a selection of interviews called Writers & Company; More Writers & Company was published in the fall of 1996. In spring 2003, HarperCollins brought out another selection,Original Minds. Eleanor Wachtel is a contributor to the best-seller Dropped Threads (2001), co-edited by Carol Shields, and Lost Classics (2000), co-edited by Michael Ondaatje et al. In 2007, she published Random Illuminations: Conversations With Carol Shields.
In 2011, Writers & Company won the New York Festivals Prize for the World's Best Radio Programs. Writers & Company twice won the coveted CBC Award for Programming Excellence for the best weekly show broadcast nationally.
Eleanor Wachtel has received eight honorary degrees, including a Doctor of Laws from Concordia University in Montreal (2010), a Doctor of Letters (2009), from McGill University in Montreal; a Doctor of Laws (2007), from Dalhousie University in Halifax; D. Litt. (2007) from Simon Fraser University in Burnaby, B.C.; D. Litt (2002) from Mount Saint Vincent University in Halifax; D.Litt. (2001) from the Emily Carr Institute of Art and Design in Vancouver; D.Litt. (2000) from Athabasca University in Alberta; and D.Litt.(1999) from St. Thomas University in Fredericton. In 2004, Eleanor Wachtel was named to the Order of Canada, and in 2014 she was promoted from Member to Officer. (Bio excerpted from CBC Writers & Company)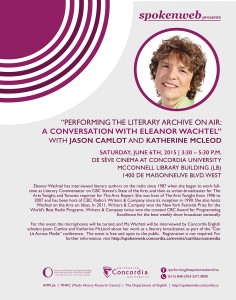 Narrated by poet Phyllis Webb, The Line Has Shattered is a sixty-minute documentary film that revisits footage from the 1963 Vancouver Poetry Conference and hears from a number of its participants half a century later.
Robert McTavish is a Canadian documentary filmmaker whose works include Ghosts on the Land (2001), Fiddler's Map (2003) and What To Make of It All?: The Life and Poetry of John Newlove (2006). He also edited A Long Continual Argument: The Selected Poems of John Newlove (Chaudiere Books, 2007, afterword by Jeff Derksen) which was hailed by the Globe and Mail as "a fitting monument to the poet's consummate craftsmanship, and a cause for national celebration." Watch the trailer here.
Information for Participants
Travel
Getting to Montreal
Montreal is easily accessible by planes and trains from all the major cities in North America and Europe. Please note that the Western Hemisphere Travel Initiative (WHTI), requires anyone, including U.S. citizens, entering or re-entering the United States by land and sea to have a passport or other appropriate secure document.
From the Airport
The cheapest way to get downtown from the airport is to take the new airport bus, Route 747, which will bring you directly to the metro system. The fare is $10 and functions as a day pass for the Montreal metro system. Taxis are also available and charge a flat rate of $38 from the airport to downtown Montreal.
From the Train Station and Bus Station:
For those of you coming from Congress in Ottawa, train or bus are good ways to travel.  Gare Central train station is within walking distance from Concordia (if you have a suitcase on wheels, or a very cheap taxi ride.  The Bus station is at Berri, east of where Concordia is located.  To get to Concordia or the hotels from there you may either take the green line going west, from Berri-UQAM to Guy-Concordia, or take the 24 bus that runs along Sherbrooke, going west.
Getting Around Montreal
The Montreal metro system is the fastest and most cost effective way to get around the city. While individual tickets are $3.25, a three day pass is $18 (and will last through the conference).
Metro operating hours are Monday to Friday and Sunday from 5:30 a.m. to 1 a.m., and Saturday from 5:30 a.m. to 1:30 a.m. The average wait time between trains is eight minutes and three minutes during rush hour. For more information about public transportation in Montreal, visit www.stm.info.
If you prefer getting around by taxi, it's always very easy to flag one down on the street. You'll also find them in front of your hotel, or at one of the city's many taxi stands. Also, should the weather prove appropriate, you want to take advantage of the Bixi bicycle rental system that is set up throughout the Montreal metropolitan area.
Accommodations
The conference is on Grand Prix weekend, which means that hotels in Montreal sell out and that rooms are going fast already. Please confirm your accommodation as soon as possible!
We recommend these accommodation options with rooms available (but going quickly):
Le Nouvel Hotel (1740 René-Lévesque West Montréal) - Right next to campus
http://www.lenouvelhotel.com/
For now, Le Nouvel Hotel has set aside a block of rooms for "Can Lit Across Media."
Chateau Versailles - A quaint boutique next to campus
http://www.chateauversaillesmontreal.com/
Marriott Residence Inn Westmount - Nice hotel close to campus
http://www.residencemontreal.com/en/
Grey Nuns Residence - Budget-friendly private rooms right on campus! (*Best rates!*)
http://www.concordia.ca/campus-life/summer-accommodations/rooms-rates.html