Please join us for the second instalment of the Performing the SpokenWeb Reading Series. A collaboration project between the English & History Department.  All events are open to the public.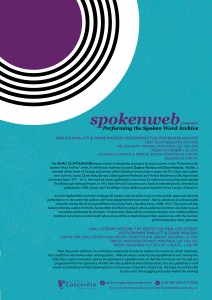 FREE AFTERNOON WORKSHOP WITH THE POETS
Oral Literary History: The Poetics of Real Life Stories with Daphne Marlatt & Diane Wakoski
Friday November 21st at 11am-12pm
Centre for Oral History and Digital Storytelling
Concordia University
LB- 1042
Sign Up at: http://storytelling.concordia.ca/events/oral-literary-history-poetics-real-life-stories-daphne-marlatt-diane-wakoski
Their discussion will focus on oral history and poetry in order to explore the manner in which memories, facts and fiction intertwine when writing poems.   Wakoski whose work has been published in over twenty-five collections creates innovative poems encapsulated in epistolary text, so that the four books can be read as a progression from her epistolary. Marlatt who has published almost thirty books, has also published a work based in oral history entitled Opening Doors in Vancouver's East End: Strathcona.  We hope you will be able to join us for this engaging discussion before the reading!
MAIN EVENT
Daphne Marlatt & Diane Wakoski: Performing the SpokenWeb Archive
Friday November 21st, 2014
Listening Stations & Memory Booth starting at 6:00 P.M.
Reading at 7:00 P.M.
Concordia University
Grey Nun's Building
Room:  GN-M100
Address Entrance: 1185 Rue Saint Mathieu, Montréal, QC H3H 2H6
Phone: (514) 848-2424 ext. 8000
https://www.facebook.com/performingthespokenwebarchive
The poets' books will also be available for purchase. Wine & Cheese to follow the main event.
ABOUT THE EVENT
The SSHRC IG SpokenWeb Research Team is pleased to announce its second event in the "Performing the Spoken Word Archive" series. The event will be held Friday, November 21st, 2014 at 6:00 P.M. It will feature readings by poets Daphne Marlatt and Diane Wakoski.  Marlatt, a member of the Order of Canada and winner of the Dorothy Livesay prize in poetry for The Given. She has written close to thirty books. Diane Wakoski was a Distinguished Professor and Poet in Residence at Michigan State University from 1975 – 2012. Her work has been published in more than 25 collections, including most notably The Motorcycle Betrayal Poems in 1972 from Simon & Schuster and a book of selected poems, Emerald Ice, published in 1989, which won The William Carlos Williams prize from the Poetry Society of America.
As a live SpokenWeb event this reading will explore how an archive can re-enter public space and become performance. In this event the authors will "read alongside their past selves"–that is, selections of archival audio recorded during the Sir George Williams University Poetry Reading Series (1966-1974). The event will also feature listening stations from the SpokenWeb Oral History project where audience members can listen to past interviews conducted by the team.  Furthermore, there will be an onsite memory clinic where audience members can enter a private booth where they will be invited to record their experiences with the event or performed poetry more generally.