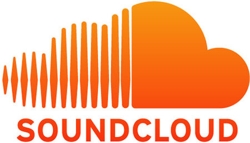 Since we're going to be experimenting with SoundCloud as part of the SpokenWeb project, I thought I would write a short introduction to the site.
SoundCloud launched in 2007 and was co-founded by two Swedes, Alexander Ljung and Eric Wahlforss. The site was launched in Berlin, and they are currently in the process of establishing a second office in San Francisco. The early days in Berlin were humble:
"Deutsche Telekom is worst in the world. It's funny, but with our old office we had to struggle so much to get the internet connection there. It was an old building, but still. It was crazy. Finally, we got some Deutsche Telekom guys to come around. They installed an internet connection that was basically a single wire hanging from the window of the office, and down the front of the building" (Larry LeBlanc's interview with Alexander Ljung).
So here are a few basic things to know about with the site. I will focus on the features that are more relevant to our project.
Uploading tracks – from the Dashboard, select 'Upload & Share'. At this point you can point to a ready-made file or record something live. Follow the instructions and be sure to mark the track as private.  If you're going to be uploading more than a couple tracks at a time, consider using the batch upload tool.
Embedding tracks on the WordPress site (e.g. in a blog post) – from the top menu on SoundCloud, choose 'You' and then 'Tracks' or click here.  Then, find the track you want to embed, and click on 'Share', then 'Customize Player'. Make any changes you want, and then copy the code for WordPress (at the bottom of the window).  Log into WordPress, start a new post, and click on the 'HTML' tab  in the editor (note the default is the 'Visual' tab). Then simply paste in your code, and go back to the 'Visual' tab to add in more content.
Explore – use the tabs at the top, or the search box on the right, to explore other poetry, spoken word, or sound art. Make sure to look under both 'Tracks' and 'Groups'.  Once you run a search, you will see your results, with some tags displayed that allow you to further refine your search. I would recommend playing around with other people's public tracks to try out the timed commenting and sharing features (e.g. embed a track on Facebook, email it, etc.), just to see how these functions work.
Statistics – to see statistics for our tracks (once things get up and running on the WordPress site), click on 'You', 'Tracks' and then 'More' (to the right of mini-update; or simply click here.  Click on 'Overview', 'Tracks', 'People', and 'Sources' to see usage stats.
Don't hesitate to ask if you have any questions.